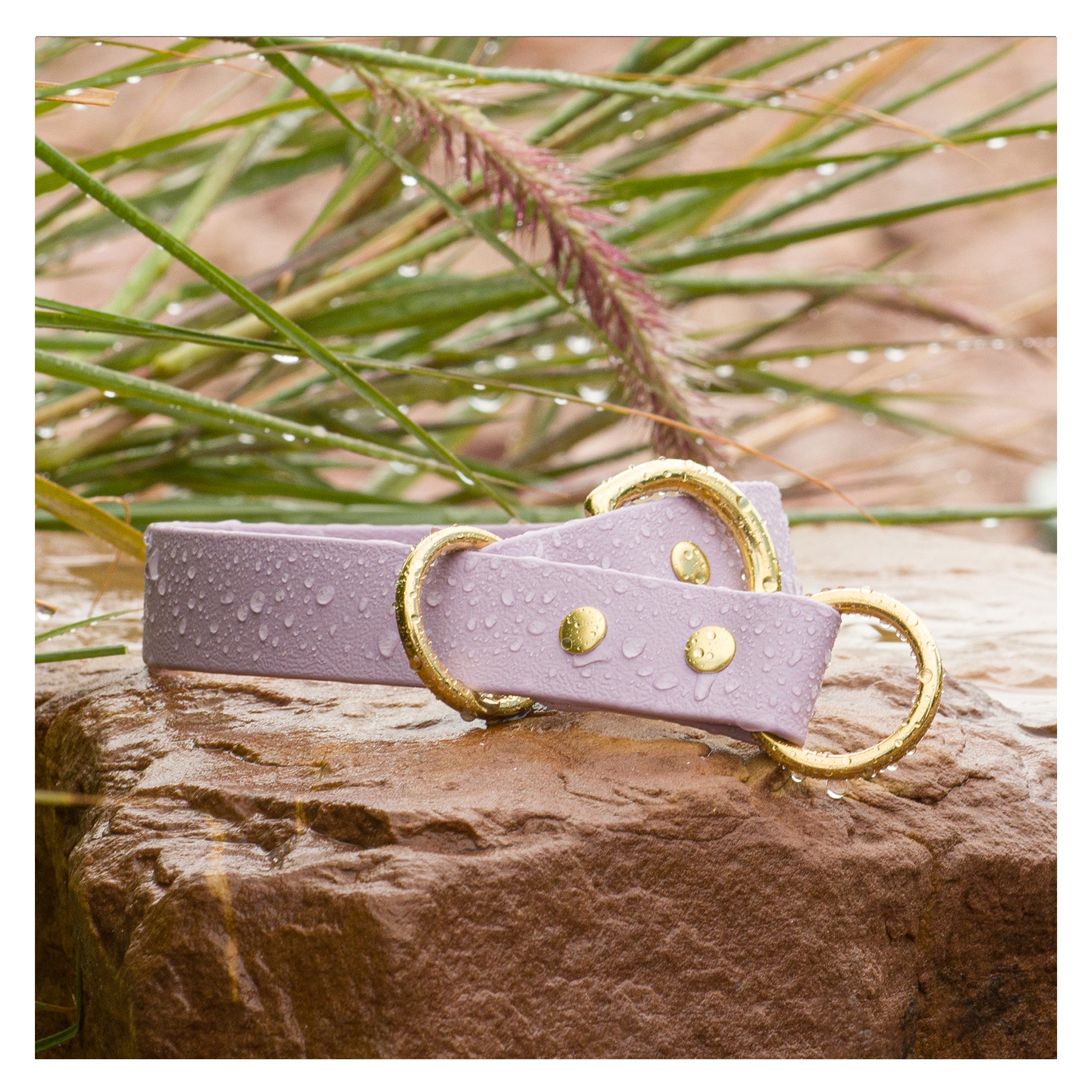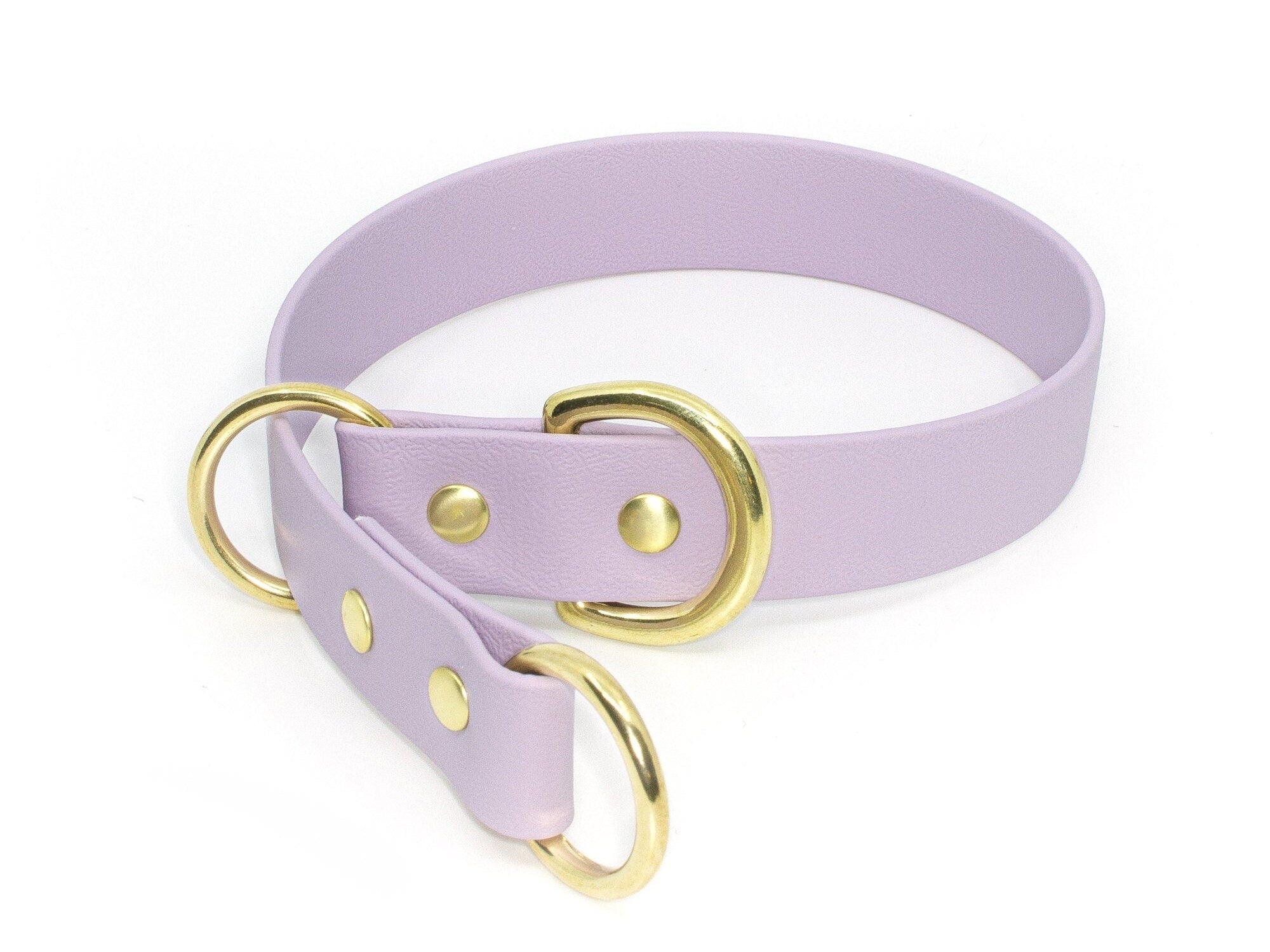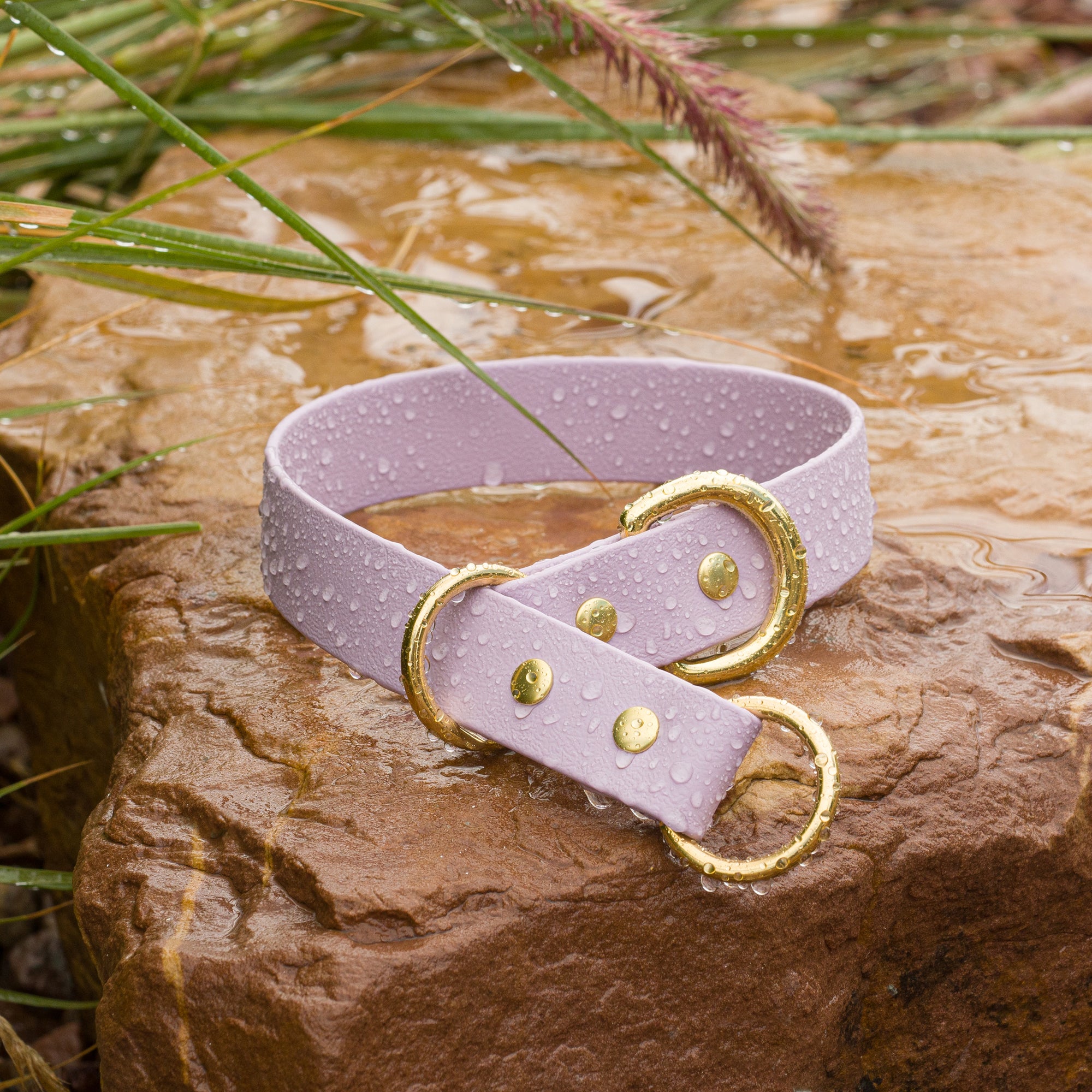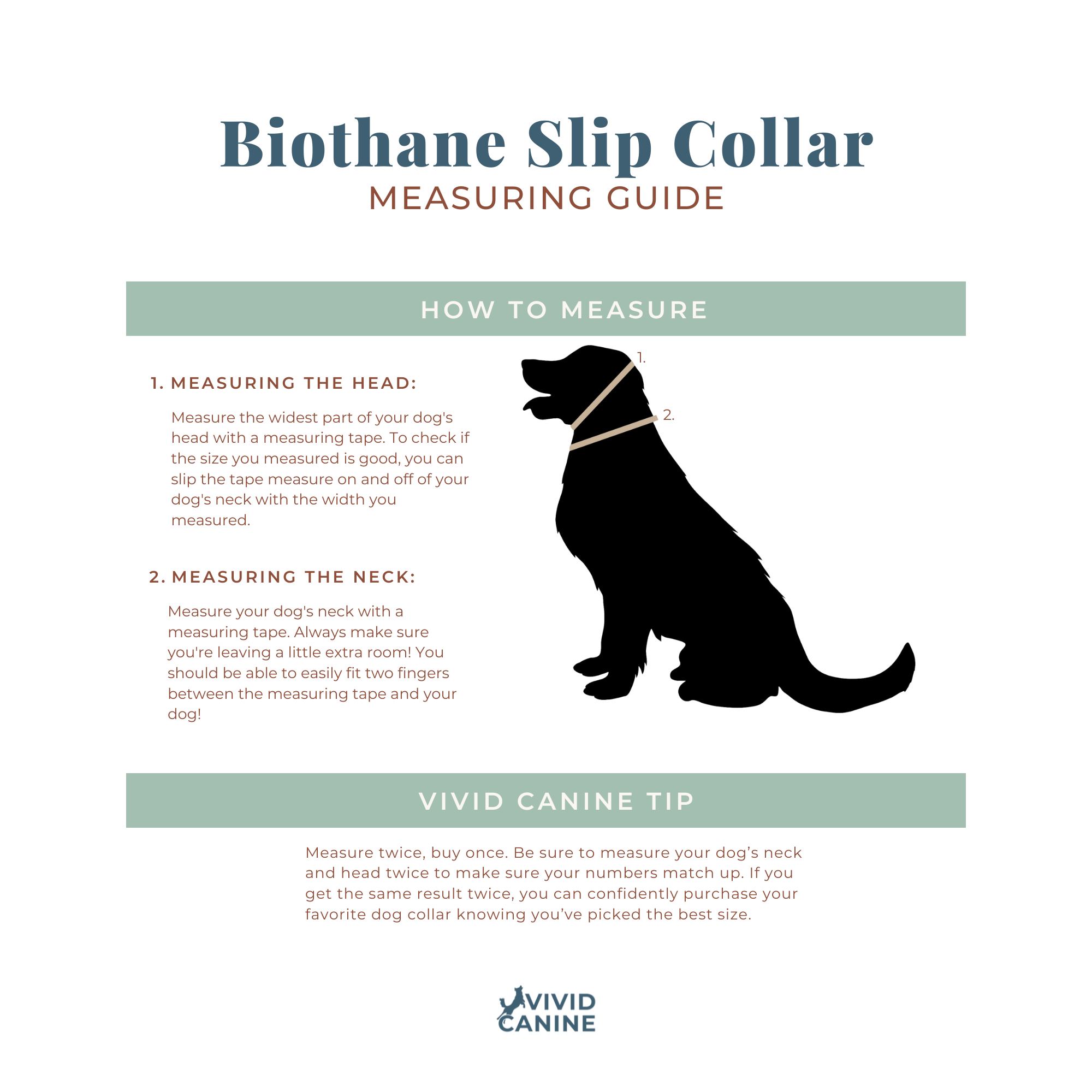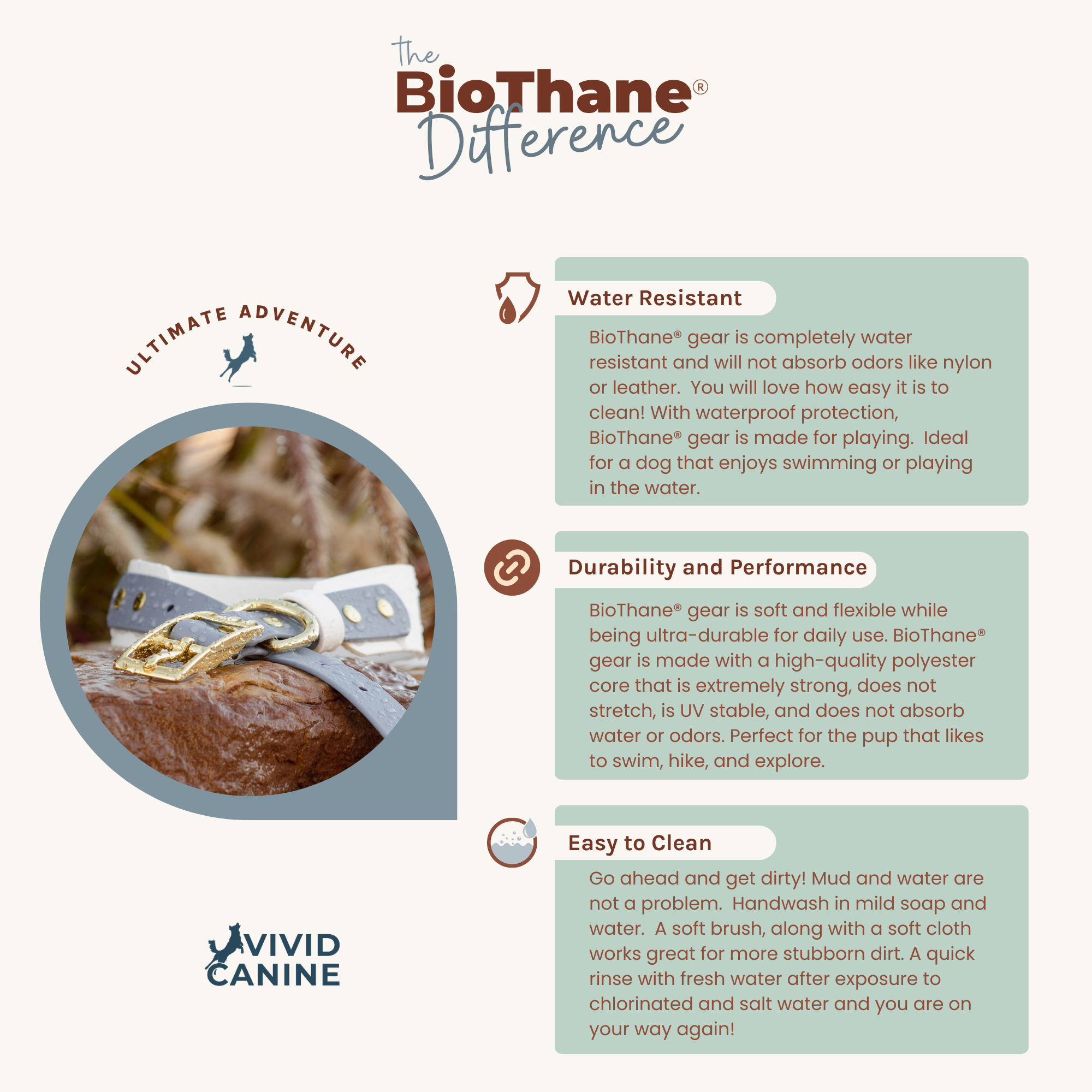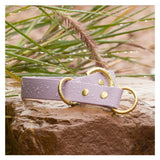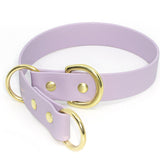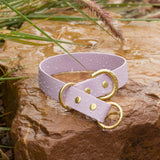 BioThane® Waterproof Slip Collar - Lilac
Description

Durability, flexibility, performance: BioThane® is the next generation of dog collars. Our BioThane® waterproof dog collar is ready for your next ultimate adventure! This genuine BioThane® waterproof dog collar is incredibly strong and durable, making it great for outdoor play. BioThane® doesn't hold odor like nylon or leather. So no more smelly collars! Without a doubt, the lightweight material makes this collar perfect for the active dog. BioThane® collars are made to last. Your dog will have the look and comfort you always wanted from a collar when going on their daily adventures!
Details

• Genuine Beta 520 BioThane®

• Machine riveted with solid brass rivets

• Solid brass hardware

• Made in the USA with love
Sizing

We recommend measuring your dog's neck and the widest part of their head. If your dog's head is bigger than their neck, we recommend going with that size so the collar will easily slip over their head. The measurement you pick, ex: 15 inches, will be the inner circumference of the collar when sitting relaxed on your dog's neck. In order to choose the best collar size for your dog, it is not recommended to use a previous collar to measure as there is no standard in collar measurements. If you are unsure about what collar size to choose, message us and we'd be happy to help!
Care

CARE:

Hand-wash with mild soap and water. Dry with a soft cloth to maintain the longevity of your new leash.

Please note: We use solid brass hardware on all of our leashes and collars. Make sure to rinse and dry all hardware thoroughly after swimming or washing. Solid brass hardware can patina over time, to help keep your hardware looking new, we recommend occasionally polishing your hardware. Regular cleaning is recommended to keep your BioThane gear looking new.

Why Biothane?

BioThane is made with a Polymer coated webbing. The Polymer coating makes this webbing a great leather alternative, as it is more durable, waterproof, and easy to clean. It rinses clean in seconds, will not mold or mildew, and will not absorb odors.
BioThane® Waterproof Slip Collar - Lilac
Exactly what I wanted! Perfect color and s...
Exactly what I wanted! Perfect color and size for my dog! (it does pick up and hold dye very well so if you dye your dog definitely wait until it is well faded to use the collar-i dyed my dog partially purple so it still looks fine with a bit of dye!)
'5 stars review from Stephanie'
'5 stars review from Stephanie'